Complimentary Dining Venues
Every cruise fare includes beautifully crafted menus in our two main dining rooms, a help-yourself buffet and a variety of casual cafés, grills and on-the-go choices. From fresh-baked breads, desserts and pastries to our chefs' original dishes made with the freshest ingredients, your dining can be as fine or fun as you want.
Inspired by the architecture and skyscrappers of 1930's Manhattan, this Art Deco style restaurant offers a delicious, traditional dining experience.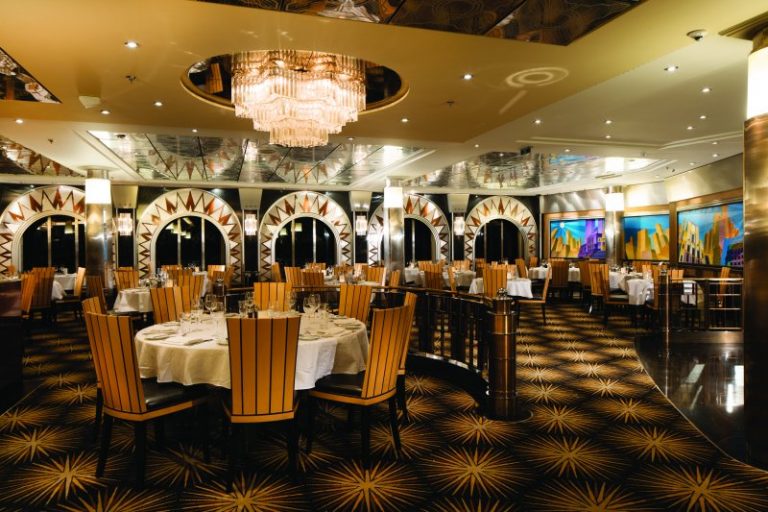 Dining at the Liberty is a traditional experience as you step back into America's Colonial days. The decor features paintings of the Founding Fathers and important moments in American History.
This totally retro 1950′s diner has Cadillac seats, plays 50′s Rock 'n Roll and offers up a classic menu of burgers, fish 'n chips, potpies and wok-fast dishes. Open 22-hours a day
This indoor/outdoor buffet-style eatery features food stations where you can order omelets, waffles, fruit, soups, ethnic specialties and pasta. Set against a Hawaiian theme with outrigger canoes, Polynesian carvings and even a kid-sized buffet.
If you can't come to the restaurant we'll bring the restaurant to you. We offer a menu of items, which can be prepared and brought to your stateroom. Room Service is available 24-hours a day (There will be a delivery charge from Midnight – 5 am).
Enjoy an Asian Fusion dining venue featuring freshly prepared noodles, delicious wok fried dishes, authentic soups, and more.
Dining aboard Norwegian is about having choices. Enjoy delicious comfort foods as well as more exotic choices from our many complimentary dining options. Or widen your palette further and choose from our specialty restaurants for a cover charge or á la carte. Whether it's a cheeseburger you have a desire for, or Coq au Vin, your dinner is ready when you are. And if you book a Specialty Dining Package, you can savor an array of our specialty restaurants for one special price
Steak is the standard at our American-style steakhouse. Take your pick from premium choice cuts of Angus beef like our traditional T-bone or tender Prime Rib. Your mouth will water, so sip your favorite cocktail in anticipation. And don't forget to order our made-from-scratch jumbo crab cakes and a side of our famous truffle fries.
Have it au poivre or just go straight for the bouillabaisse at our signature French restaurant. Elegant interiors and attentive servers make this an intimate dining experience reminiscent of a Parisian café. By the end of your meal, you'll might just be proclaiming c'est magnifique!
If you're looking for a unique experience, our authentic Brazilian steakhouse is a must. Start with an impressive salad bar of imported cheeses, olives, cured meats, ceviche and specialty salads. Be sure to save room for the delicious skewers of slow-roasted meats including beef, pork, lamb and chicken – all carved tableside by our Pasadores.
East Meets West Asian Restaurant also has a Sushi and Sashimi Bar where you can enjoy the very best sushi and sashimi expertly prepared as you watch.
Flying shrimp. Onion volcanoes. Twirling knives. The sizzles and surprises never cease at our authentic Japanese Hibachi restaurant. Sit around a lively shared table as a skillful chef slices, chops and grills steak, seafood and chicken on a large steel grill right before your eyes. Our chilled, sake-infused Wasabi Cocktail will have you flipping too
Enjoy the flavors of the Tuscan countryside at tables with room for old friends and new. Dine on classic dishes where you can taste the freshness of every tomato used to make an exquisitely delicious sauce. Try a twist on a classic like shrimp fettuccine, or keep it purist with a osso bucco. Just when you think you're out, they'll pull you back in with a toasty espresso and some macadamia nut ice cream. Delizioso!